If you were not able to attend the event or watch it live, you can watch the full recording of today's historic March for Israel here: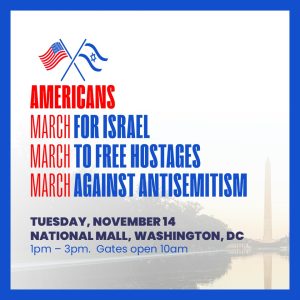 MARCH FOR ISRAEL
TUESDAY, NOVEMBER 14, 2023
National Mall, Washington, DC: 1:00 – 3:00 p.m. EST
Gates open 10:00 a.m.
BE THERE, BE HEARD.
This event brought together communities from across the country to show strong solidarity with the Israeli people, while demanding the immediate release of the remaining hostages and to condemn the rise of antisemitism.
On Tuesday, November 14, 2023, Americans from all walks of life joined forces for the "March for Israel." The March was an opportunity for all Americans to come together in solidarity with the people of Israel, to demonstrate our commitment to America's most important ally in the Middle East, to condemn the rising trend of antisemitic violence and harassment, and to demand that every hostage be immediately and safely released.
More information about the March for Israel can be found at www.marchforisrael.org.
#MarchForIsrael
#BringThemHome
#MarchAgainstAntisemitism
#AmericansMarchForIsrael