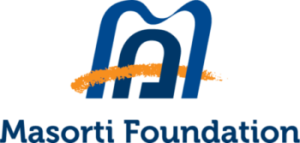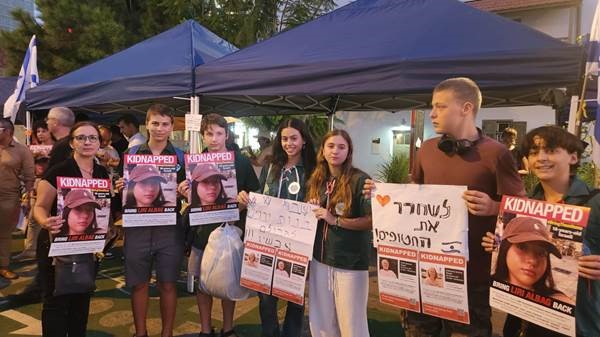 Members of NOAM with Masorti CEO Rakefet Ginsberg, after the prayer circle with families of the captives in Gaza and missing from the terrorist attack, held yesterday outside the IDF headquarters in Tel Aviv.
Praying for the Return of the Captives and Missing
It is a time of trouble for Jacob, but he shall be delivered from it. – Jeremiah 30:7
We are experiencing a time of unbearable challenges, the likes of which we could never have imagined. The grip of the ruthless scenes around the Gaza envelope is not loosening. The voices of the captives and missing can be heard from afar, reverberating throughout the world.
In response to this emotional turmoil, the Masorti Movement is channeling its efforts into pastoral care. On Tuesday, we gathered outside the IDF headquarters in Tel Aviv, standing alongside the families of the captives and the missing, praying together for their speedy and peaceful return. Many people at the impromptu encampment set up by the families spontaneously joined the prayer circle, which acted like cool waters for a weary soul. The families' active participation was proof that this warm embrace is so needed right now.
Click here or on the picture below to get a feel of the Tuesday's moving prayer circle, led by student rabbi Doron Rubin, of Kehillat Adat Shalom-Emanuel in Rehovot. Other participants included a mother of one of the captives in Gaza and Masorti CEO Rakefet Ginsberg.
Just like the soldiers on the front lines, the Israeli home front is revealing itself as resilient and unified. Citizens are seeking every way possible to contribute to the national effort, from assisting evacuees to making donations and, of course, through prayer. In response to requests from the families who participated in Tuesday's prayer circle and in collaboration with other Jewish pluralistic organizations, we returned yesterday (Wednesday) and will continue to return daily to pray together for the welfare of the captives and missing, and the wellbeing of their families. This is the least we can do to spiritually hold the grieving families and assure them that they are not alone.
Prayers
Please download the following prayers to recite at home, in your synagogue and at other gatherings:
Prayer for the Welfare and the Return of Israel's Captured and Missing from Among Our Sisters and Brothers (Hebrew and English)
Prayer for the Simchat Torah War 5784 (Hebrew and English)
Click here to watch a recording of Tuesday's prayer circle.
Masorti Responses to War in Gaza
The Masorti Movement, NOAM and our kehillot are running various activities to help those affected by the war in Gaza: from spiritual and physical assistance to evacuees, to providing chairs for shiva houses; from preparing meals for soldiers to programming for evacuee children. We have initiated programming based on information available during the first days of the war; we will continually evaluate and update these programs to meet developing needs arising from the war.
Pastoral and Emotional Care
Our rabbis are available to take calls from and make visits to people who have lost loved ones or have been evacuated.
Kehillot are providing additional pastoral care for members.
Care for the carers – professional support for our rabbis and kehillah leadership.
Public in-person prayer gatherings with families of the captives and missing.
Daily online prayer service for general support and occasional global services.
Composition of new prayers in response to the war.
Accessibility for prayers for people with disabilities.
Connecting Jews abroad: online prayer services, briefings and updates.
Impact: 100 rabbis & leaders, 20,000 kehillah members, 50,000-100,000 general public, 20,000-50,000 Jews abroad
Cost: $36,000 (Oct-Dec)
Direct Support for Evacuees, Soldiers and the Bereaved
Kehillot in Ketura and Hannaton are hosting evacuees and soldiers.
Preparation of meals, providing other physical needs.
Meals and care packages for soldiers.
Respite and leisure programming for evacuees, especially children.
Provision of physical needs for Shiva houses (chairs, table, siddurim, etc.).
Impact: 400 evacuees, 500 soldiers, bereaved families (based on requests)
Cost: $250,000 (Oct)
NOAM and youth
Supplementary programming for children out of school.
Emotional support and physical care for NOAM soldiers.
Volunteer-year members assisting in support centers for evacuees and people with special needs.
Transportation for NOAM members to provide programming at evacuee centers.
Impact: 2,000 NOAM members, 100 soldiers, 500 evacuees
Cost: $10,000 (Oct-Dec)
Emergency Action Coordinator
Staff member to coordinate movement-wide activities and provide logistic support.
Provision of small grants to local kehillah initiatives.
Impact: all impacted by programming above
Cost: $30,000 (Oct-Dec)
Please contact the Masorti Foundation for more information on any of these programs. Please note that costs are estimates and that programs will be adapted to reflect the needs on the ground.