Our fourth book will be Hope Valley by Rabbi Haviva Ner David > SAVE THE DATE for our next book club meeting: Thursday, October 21. More details coming in August!
In the midst of the emerging pandemic and in the wake of the World Zionist Congress election campaign, MERCAZ USA launched an online book club featuring contemporary Israeli literature that provides insight into and understanding of the lives and concerns of our Israeli counterparts: MERCAZ READS ISRAEL, a partnership between MERCAZ USA, MERCAZ Canada, MERCAZ UK, and the Israel Forever Foundation.
Our first book club meeting in June 2020 was with author Avigail Graetz.  Nearly 150 book club members joined Avigail on Zoom to explore and discuss her book "A Rabbi's Daughter." This was followed in September 2020 with our second book club meeting, where we drew an equally large audience for our dive into "If All The Seas Were Ink" with author Ilana Kurshan. In addition to our book club discussions on Zoom, individuals can join our ongoing discussion of our book selections in our book club's Facebook group.
This summer,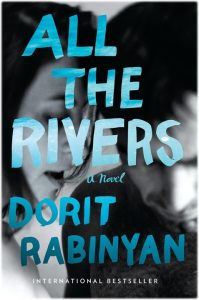 we are read our third book – 'All The Rivers' by acclaimed novelist Dorit Rabinyan. This work, a controversial, award-winning story about the passionate but untenable affair between an Israeli woman and a Palestinian man, was banned from classrooms by Israel's Ministry of Education. This remarkable novel is a bold portrayal of the strains – and delights – of a forbidden relationship.
In choosing this book, MERCAZ is not endorsing its position or its politics, rather we want to expose our readers to a different Israeli perspective. This book may be a challenging read for some but exploring the complex issues of Israeli life is at the heart of our mission with MERCAZ READS ISRAEL.
To learn more about MERCAZ READS ISRAEL, watch our July 13 book club meeting discussing 'All The Rivers,' and watch the recordings of past book club meetings go to mercazusa.org/category/mercaz-reads-Israel. To join our discussion group on Facebook, go to facebook.com/groups/MercazReadsIsrael.