Supporting Religious Pluralism in Israel
Our Mission
MERCAZ USA is the United States branch of MERCAZ OLAMI, the Zionist organization of the Masorti (Conservative) Movement. MERCAZ represents Masorti Judaism within the World Zionist Organization and Congress, the Jewish Agency for Israel, the American Zionist Movement, and the Jewish National Fund.
MERCAZ is the force that advocates for funding of pluralistic streams of Judaism in Israel through the World Zionist Congress, which is crucial to our movement's growth in Israel and around the globe.
Our mission is to further the cause for true religious pluralism in Israel and strengthen the connection between, and create engagement opportunities for, the people of Israel and Jews living in the Diaspora. MERCAZ USA is proud to be the sponsor of 'Masorti on Campus,' supporting Masorti activities on college/university campuses, and 'Mercaz Reads Israel,' an online book club connecting Diaspora Jews to Israeli authors.
Click here to become a new member, renew an existing membership, or make a donation.
For more news from MERCAZ USA, click here …
---
MERCAZ USA is a proud sponsor of Masorti on Campus / Masorti X
---
A MERCAZ Event | Torah shall go forth from Zion: Masorti Responsa from Israel
Read More
Ruach Ukraine: Music for Peace and Solidarity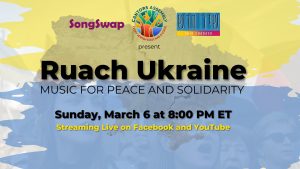 Watch the Cantor's Assembly program, which was co-sponsored by MERCAZ USA, and presented live on Facebook and YouTube on Sunday, March 6, 2022, below …
To make a donation to any of the organizations highlighted in this program, go to cantors.org/ruachukraine and scroll to the bottom of the page.
Ukraine is under siege. The…
Read More