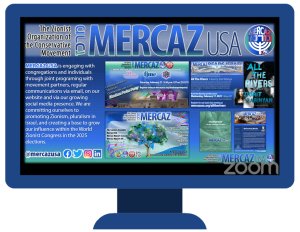 If you are reading this, you likely already know the critical role MERCAZ USA plays in connecting Jews in the United States to our siblings in Israel and representing Masorti (Conservative) Judaism in Israel and worldwide through the World Zionist Congress.
You probably also know that most of your synagogue members have never heard of MERCAZ, much less the role we play in supporting programs such as Masorti on Campus, Mercaz Reads Israel, and securing funds for movement programs such as USY Pilgrimage and Nativ.
As we begin to think about the 2025 World Zionist Congress elections, we are committed to partnering with our congregational communities to engage your synagogue's members with MERCAZ USA.
To learn more, invite us to join you for a (virtual) meeting with your leadership team! During our time together, we can brief your board and committee members on everything MERCAZ is doing to support pluralistic Judaism, and how our work can connect your members to Israel!
To learn more and book a time for us to meet with your board, email Sarrae at  sarrae@mercazusa.org.