As we monitor the escalating violence in Israel, we share the following with you from our partner organizations, standing in  prayer and solidarity with Israel:
Rabbinical Assembly Responds to Rocket Fire, Violent Attacks in Israel
In light of the deteriorating security situation in Israel, The Rabbinical Assembly, the international association of the Conservative/Masorti movement, released the following statement:
"We are deeply disturbed as we see the rocket fire directed at Israel that has severely impacted civilian populations. The increased military capabilities of Hamas, based in Gaza, are particularly concerning and we recognize Israel's right to defend itself. We are also gravely troubled by the religious and nationalist-based violence that has erupted between Jews and Arabs in various locales across Israel.
We are pained by the violence, fear, and loss of innocent life in the region. We stand with our siblings in Israel, pray for the safety of Israeli security and rescue forces, for full healing for all who are injured, and offer comfort to the families of those who have died. We are mindful of our Masorti communities, our clergy, and our leaders impacted by these events and all who are providing so much support to those affected.
We call on our members to join with the public plea for true peace in Israel and joy for all its inhabitants. As we are taught in Psalm 122, 'Pray for the well-being of Jerusalem; May those who love you be at peace. May there be well-being within your ramparts, peace in your citadels.'"
Download a Prayer as Israel is Under Missile Attack
This statement has been endorsed by:
Federation of Jewish Men's Clubs
Jewish Theological Seminary
Mercaz Olami
Mercaz USA
---
A Heartfelt Prayer of Solidarity with Israel
Our hearts go out to all the people in Israel at this very difficult time. We share the sentiments of Rabbi Andy Sacks, Director of Masorti's Rabbinical Assembly in Israel, of hope and prayer for the restoration of peace in Israel.
"Rabbis in Israel, in the Rabbinical Assembly, and the entire leadership of the Masorti (Conservative) Movement in Israel express their deep sorrow and anxiety in the face of the dangerous deterioration in the security situation. We call on the public, from the bottom of our hearts, to join us in prayer. We pray for calmness of the spirit and for the restoration of peace. On the upcoming holiday of Shavuot, as one people with one heart, we add our prayer, Psalm 22:2 and the prayer for peace of Rabbi Nachman."
This prayer was prepared by our friends in the Masorti Movement in Israel and the Rabbinical Assembly.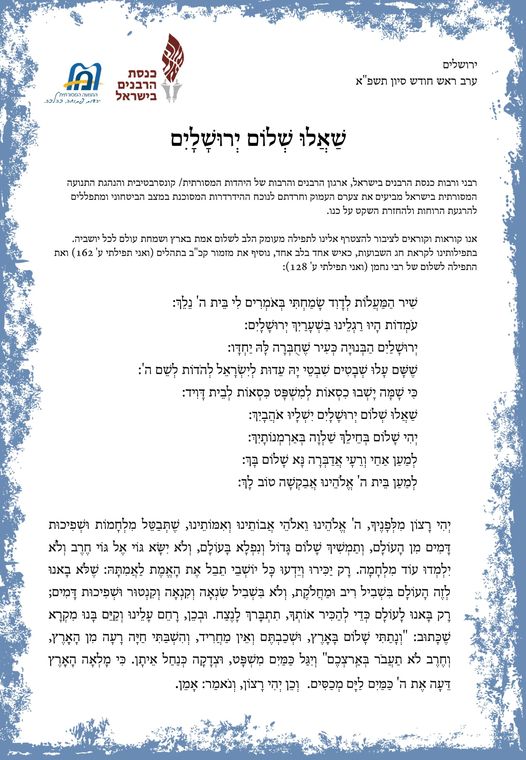 ---
MERCAZ USA is a member of the Conference of Presidents of Major Jewish Organizations
Conference of Presidents Stands With Israel Amidst Continued Assault
May 11, 2021 | New York, NY
. . . Dianne Lob, Chair, William Daroff, CEO, and Malcolm Hoenlein, Vice Chair of the Conference of Presidents of Major American Jewish Organizations, issued the following statement:
"The international community must raise its voice against the outrageous ongoing rocket attacks and acts of violence deliberately targeting Israeli civilians, forcing thousands of families into bomb shelters overnight and causing numerous fatalities and injuries. Iran-backed Hamas terrorists have fired hundreds of rockets from Gaza since Monday, murdering innocent people, threatening millions of lives, and sending schoolchildren running for cover.
Since the Hamas takeover that followed Israel's complete withdrawal in 2005, the Gaza Strip has become another front for the extremist Iranian regime and its proxies to wage war on Israel. They seek to annihilate the Jewish State and the Jewish people, while sowing chaos across the Middle East in relentless pursuit of regional hegemony. This continued assault underscores the need for the world to hold these purveyors of hate, violence, and terror accountable.
We stand in solidarity with the Israeli communities under siege, salute the brave men and women of the IDF, police, and first responders defending them, and pray for the safety and security of the State of Israel."
Jewish Leaders Denounce Palestinian Incitement, Violence, and Rocket Attacks
May 10, 2021 | New York, NY
. . . Dianne Lob, Chair, William Daroff, CEO, and Malcolm Hoenlein, Vice Chair of the Conference of Presidents of Major American Jewish Organizations, issued the following statement:
"We condemn the willful incitement by the Palestinian Authority and Hamas that is instigating violence and unrest in Jerusalem, as well as the continuing rocket attacks on Israel from Gaza.
We stand in solidarity with Israel as she continues to face lawlessness and rioting spurred by Palestinian leaders who are shamelessly fanning the flames of hate and violence with apparent disregard for the safety and security of Palestinians and Israelis alike.
The rocket attacks, which continue to target Israeli cities including Jerusalem, requiring thousands of Israeli civilians to protect themselves in bomb shelters, constitute a clear violation of international law and must be condemned by the international community at once.
As Jerusalem Day is commemorated and the end of Ramadan approaches, we call for calm and we pray that peace prevails."
###
The Conference of Presidents is the central coordinating body representing 50 national Jewish organizations on issues of national and international concern