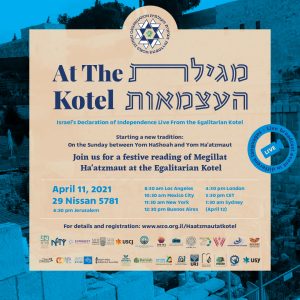 This piece is adapted from a sermon delivered by Rabbi Eytan Hammerman to his congregation on the Shabbat after Yom Ha'Atzmaut (Israel's Day of Independence):
Emily, when I was your age, at my Bar Mitzvah, in 1989, we had an extra chair on the Bimah and on the chair we put a tallit, a siddur and a piece of paper  where we printed a name. I don't remember the name any more – but, of course, I remember why we did this, why we put that extra, empty chair on the Bimah. The name was a Russian name – the name of a Russian Jewish boy who was not permitted to have a Bar Mitzvah. He and his family were refusniks – they weren't allowed to leave the Soviet Union and they could not practice Judaism in the Soviet Union as they wished, with the same religious freedoms that we enjoyed in the United States. We spoke once by phone and wrote several letters back and forth. Somehow, the translation was worked out. We took the symbolic step in 1989 of giving him a "Bar Mitzvah," treating him as if he was my Bar Mitzvah twin.
The year 1989 might have caught your attention or the attention of your mother because that's the year that her family was able to leave the Soviet Union and, indeed, my Bar Mitzvah twin was also allowed to leave not too long after. Unfortunately, we did not keep in touch – I believe that his family left the Soviet Union for Israel, just like so many other Jews left for America and elsewhere. And, when they arrived, and when your family arrived, it wasn't perfect, it wasn't easy. The streets are not paved with gold – as all immigrants to our country learn very quickly. But, hopefully, his family – and your family – were welcomed not just as new citizens but also as Jews. We cared for you when you were there and when you arrived here – Kol Yisrael Arevim Ze ba Zeh – all of Israel is responsible, one to another.
Years before my Bar Mitzvah, I remember learning the name of another Soviet Jewish refusnik – and this name we should all know. Anataoly Sharansky: Sharansky was a leader in the Jewish community and for this he was pursued, punished and jailed. Until enough pressure from outside the Soviet Union – because Jews around the world brought up his name at every opportunity, caused the Soviet leadership to strip him of his citizenship, just what he had been asking for – and expelled him from the country, to Israel, where he reunited with his wife Avital and then began their lives anew. I remember in the late 1980s, reading Sharansky's memoir, of his triumph over the police state. It was called "Fear No Evil."
Adonai li V'lo Ira – just like Adon Olam concludes; if I have God with me, I won't be afraid. More recently, Sharansky – now, Natan Sharansky, no longer Anatoly … former member of Knesset, former head of the Jewish Agency for Israel, continued Hero of the Jewish People … now, Sharansky has published a new book called, "Never Alone ." Kol Yisrael Arevim Ze ba Zeh – we are all responsible for one another. The long arc of Jewish history is always with us.
In the book he tells the story of his time as a journalist when he first made Aliyah. He was also a religious Jew. And, yet, he was invited to cover a story of a different Exodus, this, the Exodus in 1991, the miraculous mission in which the State of Israel launched Operation Solomon, the clandestine and truly heroic effort to save over 14,000 Jews from Ethiopia. They were brought, over the course of one Shabbat, to Israel in El Al airliners – על כנפי נשרים, on the wings of eagles – where the planes had been painted over and seats removed, to make more space. With Yom HaShoah recently behind us on the Jewish calendar, the sentence uttered by the IDF spokesman summarized it all, "This operation shows that if the Jews had an airline and if they had had an address in 1939, there would have been no Auschwitz."
The State of Israel and we, Jews around the World, mark Yom Ha'atzmaut, Israel's Independence Day, shortly after we remember the Shoah.
In Jerusalem, at the Kotel, a new way of observing the holiday was born this year, in a quintessential Masorti/Conservative Judaism way. You've all heard of the Kotel and its Egalitarian section, Robinson's Arch, where so many kids from our shul have become Bar and Bat Mitzvah in recent years. This year, our brother and sister Masorti Jews went to the Kotel and brought with them a new holy Jewish text of the Jewish people, the Declaration of Independence.
And they read this text, that some would think was purely a political text just the same way that we read other holy texts, with the traditional Haftorah trope (you can watch of a recoding of this historic ceremony with English translations, below): 
And, to echo Sharansky, who may very well have been there at this reading of the Declaration, we will do the same here, right now.
Gabe Nechamkin and Deborah Bers and Cantor Marcos and I have each prepared a page from the Megillah – yes, the same word (we use to identify other sacred writings), the Megillat Atzmaut – the Independence Scroll – and I invite you to follow along.
But, how? Ah! I don't know if any other published siddur has the words of Israel's Declaration of Independence within. But, yes, our siddur (Lev Shalem) editors recognized the sanctity of those words, as a modern holy text of the Jewish people and included it for us, as if they knew what we would want to read it.
So, you are all welcome to turn to page 449 and follow along and, maybe, for the first time, actually read every word of Israel's Declaration of Independence. You can also download a PDF of the Megillat Atzmaut with the trope here.
See what its founders were dreaming of: The state that they hoped to create, the way they intended to treat Israel's citizens of all religions, how they hoped to interact with her neighbors.
I don't have any illusions about just how complicated it is to maintain a Jewish State in the 21st century. What is "Jewish," what is a "State?" These questions can consume us. But especially, on יום העצמאות, I celebrate … and I only celebrate:
I celebrate that in 1948 the Jews won the war, for to lose it would have meant to lose everything and everyone.

I celebrate that the State of Israel exists, for its existence is so much better for the Jewish people than would be its non-existence.

I celebrate that there was a home and an address to which Operation Solomon brought Jews from Ethiopia.

And I celebrate dreaming about the next time I will be able to visit …
I heard from JJ Jonah recently, the tour operator for our cancelled March 2020 trip. He's ready for us to come back – are we ready to go?
Eytan Hammerman assumed the rabbinate at the Jewish Community Center of Harrison in August, 2014. He had previously served Temple Beth Shalom, Mahopac NY, for four years where he substantially grew the congregation and brought innovative programming along with his trademark energy and enthusiasm. He is committed to doing the same at the JCCH and, especially, to finding ways of making Conservative Judaism both relevant and meaningful to our 21st Century lives. Rabbi Hammerman looks forward to infusing time-honored traditions and stong values into our younger congregants with whom he enjoys a remarkable connection.